How an Interactive Microsite Moves Philanthropy Toward Feminist Futures
Equality Fund – Annual Report
Discipline
Strategy
Core ID Branding
Graphic Design
Microsite
Sector
Philanthropy & Investments
Feminist Movements
Every year, philanthropic organizations issue annual reports of their grantmaking efforts and impacts in the same old PDF format. Funders and investors glance over the report and forget it. Community members miss the report altogether—most organizations don't bother to share it with them.
Enter: Equality Fund.
A philanthropic organization unlike any other.
This feminist fund piloted a participatory approach to grantmaking in its inaugural year. No PDF could do justice to the story of how the Equality Fund uses philanthropy as a means to decentralize power. A—B designed an interactive microsite that tells the story of how Equality Fund moves capital and power to women, girls and nonbinary people, making its annual report accessible to funders, grantee partners and all people who are invested in feminist futures.
How do we report on a radically different year?
PDFs can't move us to change, so we moved to change the PDF.
Equality Fund had just completed its 2020-2021 funding cycle in one of the most globally disruptive years in living memory. Yet even in the face of these challenges, the Equality Fund team and community achieved incredible success across all streams of their work. With support from Equality Fund, grantees like Brigada Callejera, Sukhumi and Horizons Femmes made strides to protect and empower women and gender-marginalized people in Mexico, Georgia and Cameroon (respectively). These organizations deserved far more than a name-drop in a report designed for someone else's eyes.
To celebrate the resilience that defines their grantee community—and to reveal the radical trust which sustains that resilience—we collaborated with Equality Fund to strategize a new format to convey their year in review. Not a stagnant report, but an interactive revelation about the power of gender justice and feminist movements.
Why should a bot speak for a woman?
Badass accessibility lets feminist leaders speak for themselves.
Too often, accessibility is an afterthought to the creative process. In this case, accessibility was not the final line item on our creative brief—it was the defining request. Our majority-female creative team began by conceptualizing new storytelling structures designed for audiences that looked and lived like us. We reflected on our own relationships with feminism, and transmitted those emotions into photographic styling, graphic depictions of data and bold text treatment. Every step of the way, we asked questions: Is this type big and clear enough for legibility? Do these hues contrast enough for visibility? How can we enhance this experience for blind and visually impaired users?
Our duty to accessibility extended to another oft-neglected audience: Francophones.
We facilitated a partnership between Equality Fund's content writer, a web developer and a translator to produce a dual-language microsite through which users can interpret the same meaning, feeling and impact in French or English.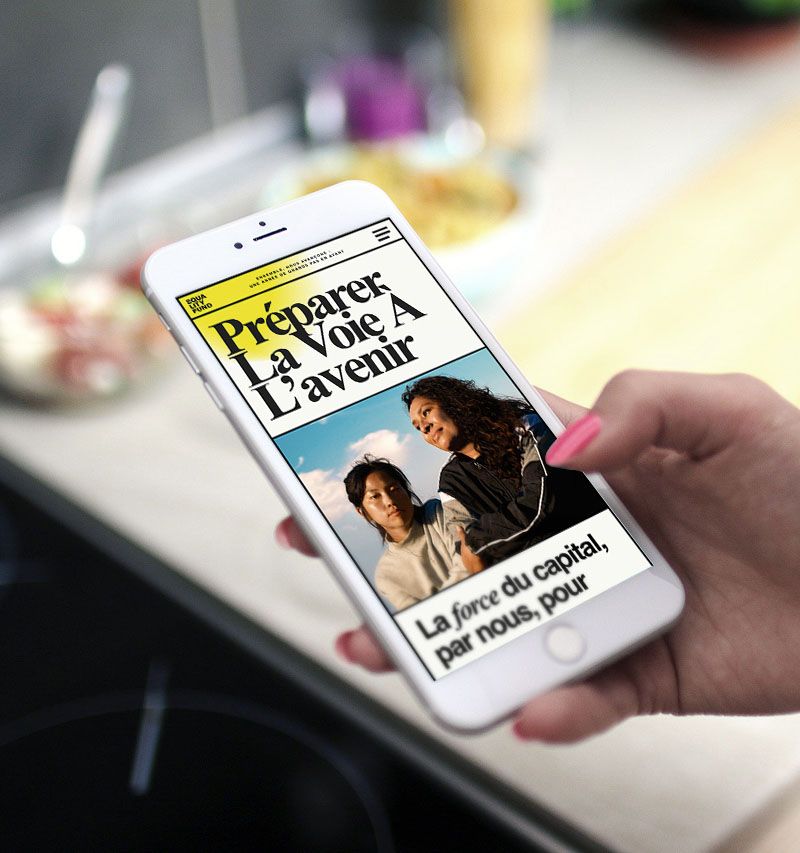 "So powerful! Certainly the most engaging, dynamic and even edgy annual report I've read."
Equality Fund Partner
"So powerful! Certainly the most engaging, dynamic and even edgy annual report I've read."
Equality Fund Partner
Can she feel her power reverberate?
Across 66 countries, feminist leaders felt the impact of their own efforts.
Equality Fund debuted their custom-designed annual report microsite, to overwhelming acclaim from investors, donors and grantee partners. They shared the microsite with other nonprofit leaders, driving organizations throughout the sector to reimagine how annual reports should look—and whose interest they should serve.
impressions & engagements
e-blast recipients with 28% open rate
personalized emails sent to donors & partners
Press
from Ford Foundation, STREA, RockCreek, WPSN Canada, Women's Fiji Fund, & FJS
For as much as the annual report microsite impacted Equality Fund's community partners, it had a transformative effect for staff and leaders within the organization too. Working together as a majority-female team aligned on feminist values, A—B and Equality Fund established a partnership based in the same radical trust that defines their grantmaking efforts. That trust built the foundation for Equality Fund to explore even more grand expressions of their mission and impact through a comprehensive rebrand.
Discipline
Strategy
Core ID Branding
Graphic Design
Microsite

Sector
Philanthropy & Investments
Feminist Movements

Links
Project Team
Aja Campbell, Project Manager
Isabella Sehringer, Strategist
Cora Kim, Designer
Diego Herrera, Designer
Jinah Lee, Creative Director
Clarence Kwan, Partner, Head of Creative
James Wu, Strategy Director
Jennifer Ryder, Strategist

Collaborators
Christina Peña Brower, Partner, Strategy
Alistiar Stephenson, Deputy Chief of Staff